Like Finland has Saunas, Iceland has Hot Springs. It is a must do you should absolutely try when visiting Iceland. There are many swimming halls in all the cities and towns of Iceland where you can experience hot water/cold water… However, you should experience at least once dipping in a natural hot spring in the middle of spectacular landscapes. We have created for you a list of some of our favorite spots all around Iceland where you could experience this amazing and relaxing moment. Remember, there is only one rule when you come to a hot spring: always leave the place as you found it, keep your trash and leave the place clean. Now, shall we?
Reykjadalur Geothermal River
(South West)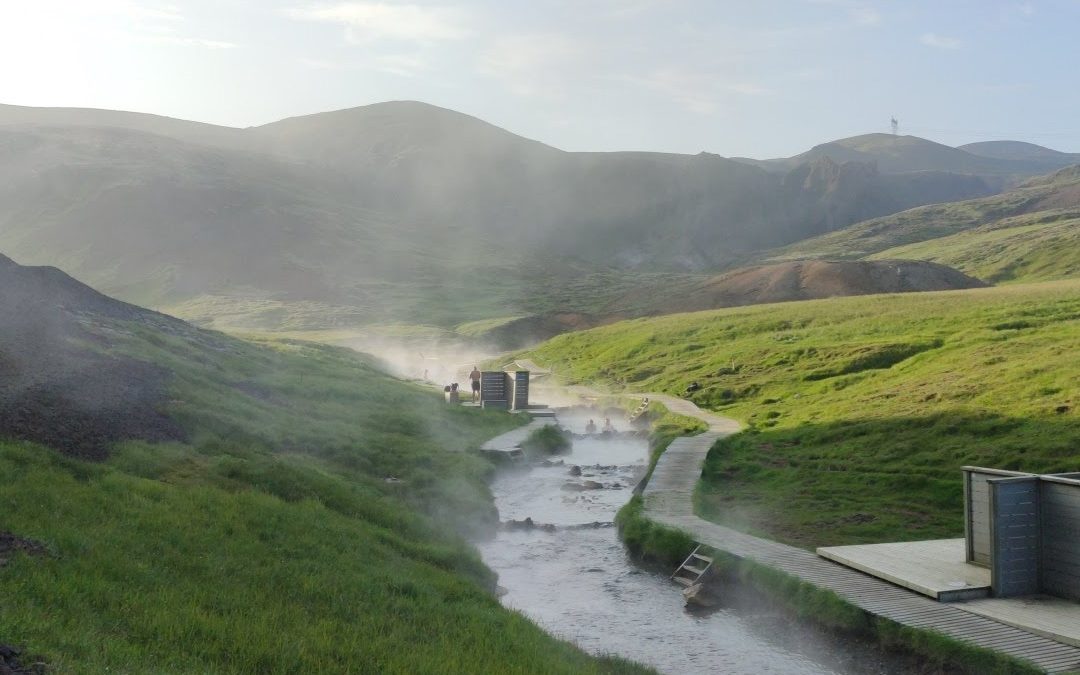 This place, close to Reykjavik, is not just a lonely hotspot but a whole river for you to dip in! It only requires a short hike but it is really worth it once you arrive at the river. The water can be very warm at some places so be careful where you want to bathe! You can check out our article about it to have more information.
Hrunalaug
(Golden Circle)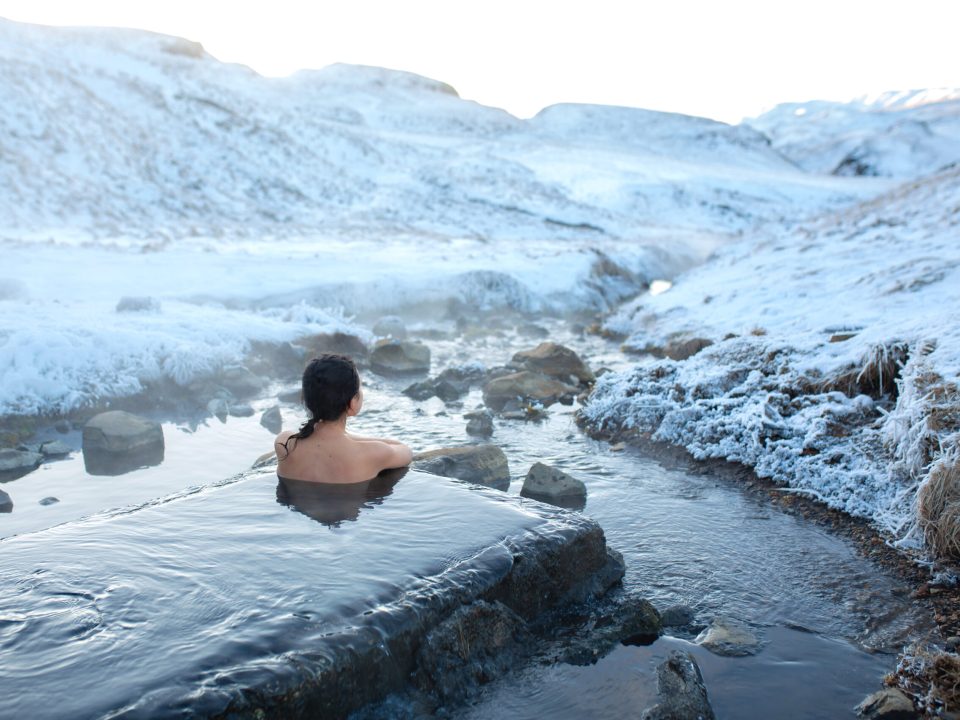 Nearby the Golden Circle, you will find this little gem. The hot spring one the picture is pretty small and can actually suit two people to dip in but next to it you have two other natural pools where to dip with more people and a tiny house where to change. It is very pleasant to stop by and enjoy the warm waters for a while.
Guðrúnarlaug hot spring
(North West)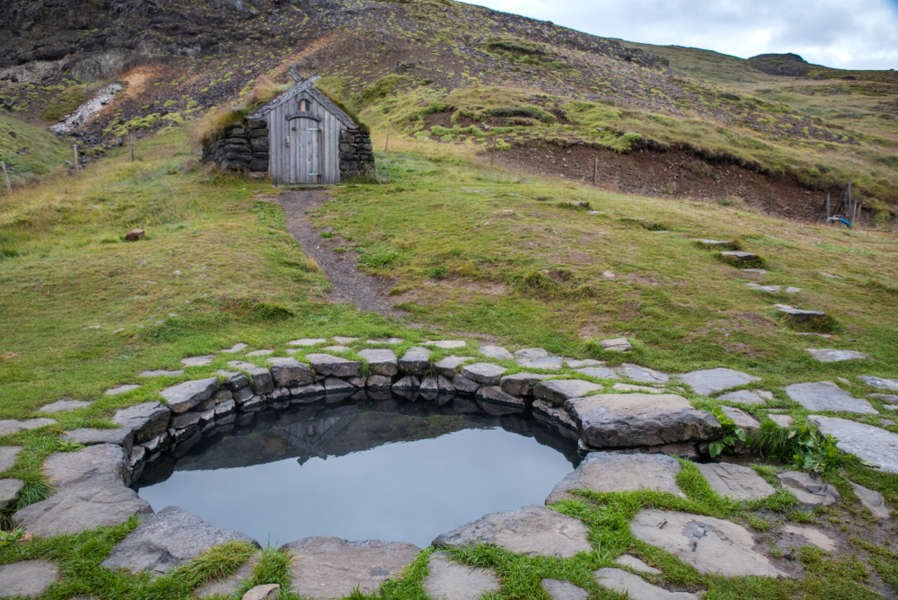 This charming hot spring is located on the road between Reykjavik and the Westfjords. It is very cute with a little cute wooden changing cabin and a river stream passing next to it. Watch out as it can be a little bit algae in the hot spring but it is natural water, it cannot always be crystal clear.
Hellulaug
(Westfjords)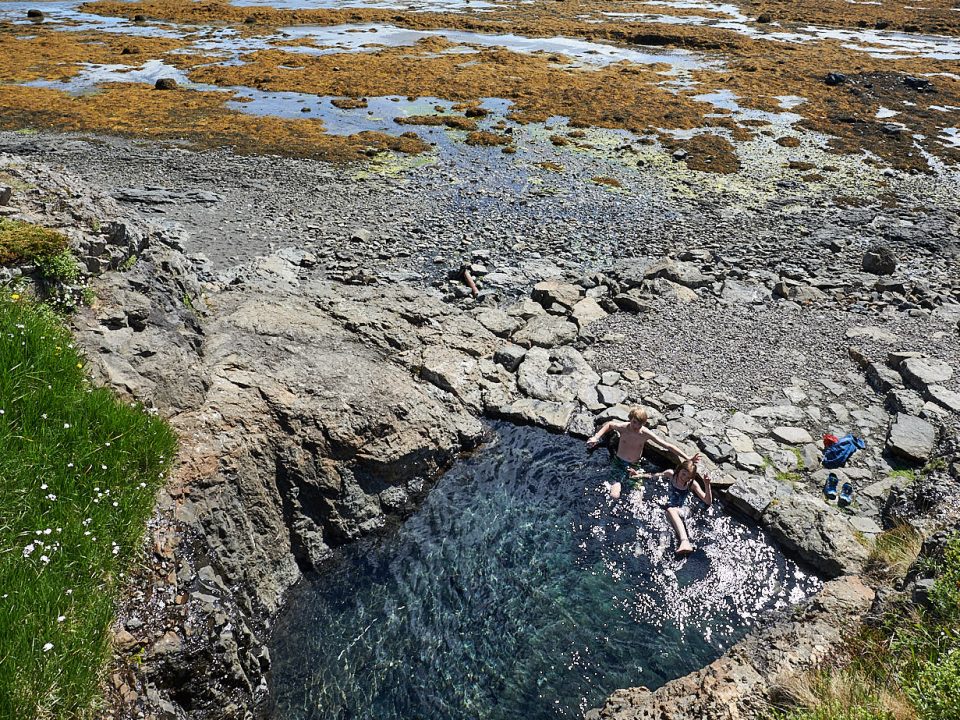 If you go to the Westfjords from the South, you have to stop by! This little gem is giving you an incredible view over the fjord. It is rather big so you can be up to 10 to dip in and enjoy the view. The hot spring is also pretty clean so it is very nice to bathe in and if you go early in the morning you will enjoy a spectacular sunrise alone in the place.
Reykjafjarðarlaug Hot Pool
(Westfjords)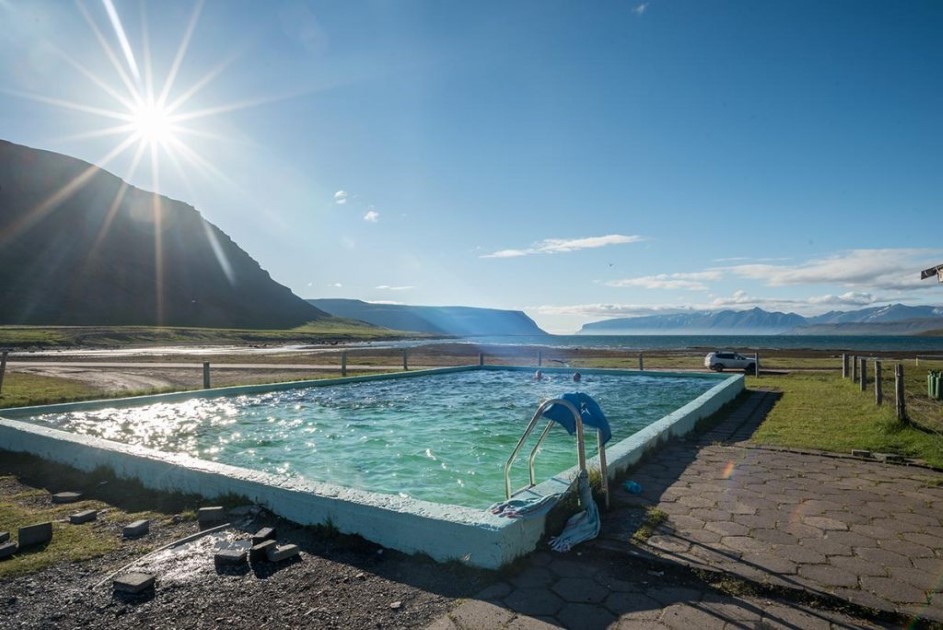 This hot spring actually has two very different hot springs, one natural one and one built pool, but both of them are powered with the same natural hot water. Be aware that the natural hot spring is very warm but the pool is at the perfect temperature to enjoy your time there and the view on the fjord.
Pollurinn hot springs
(Westfjords)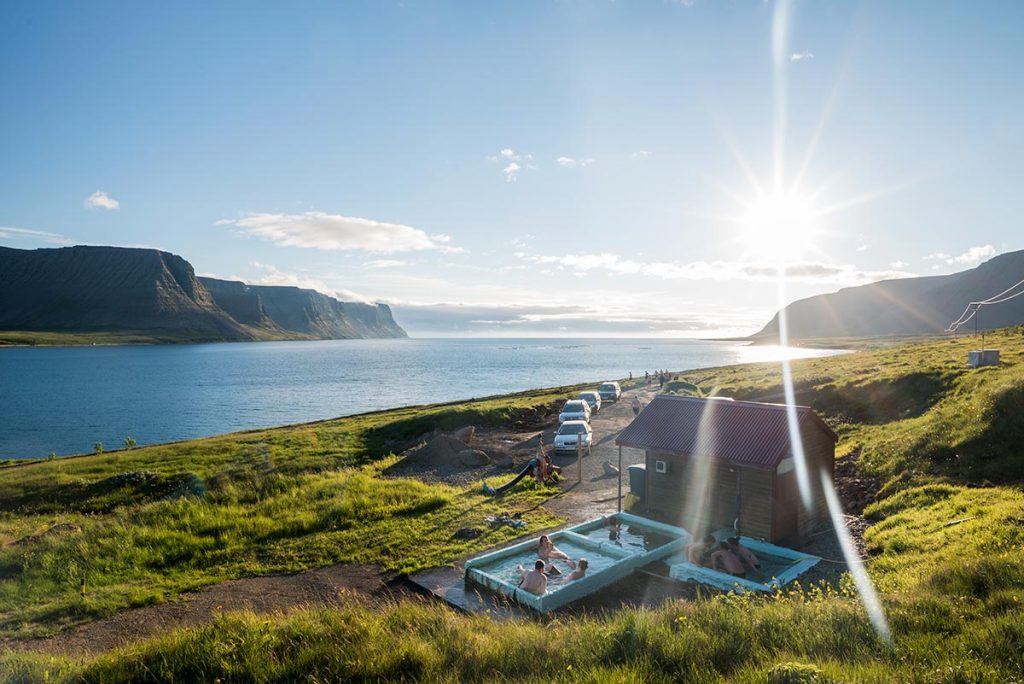 Outside from the touristy path in the Westfjords, you will find these three hot pools filled with natural hot spring water. There is a little cabin right next to the pools with a small shower you can use before entering in the pools. With the view on the fjord, this is the perfect place to enjoy a lovely moment to relax.
Hörgshlíðarlaug
(Westfjords)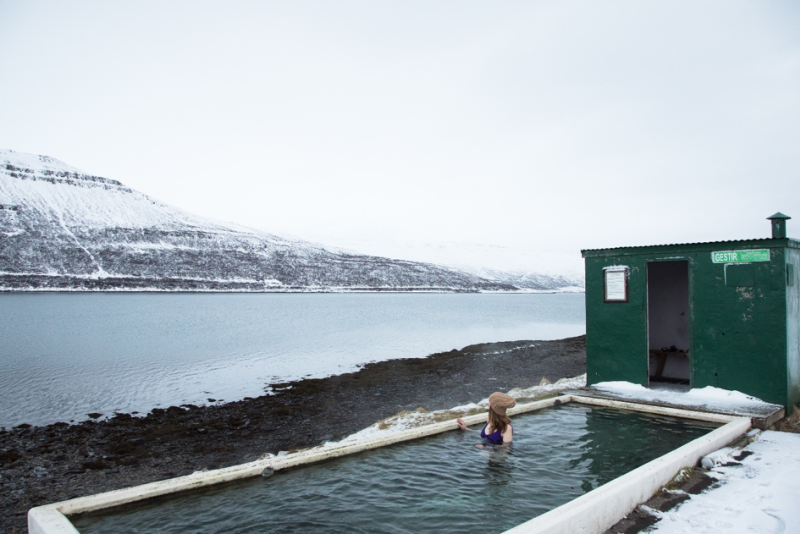 Still in the Westfjords, you will find this little gem. It is on private lands but feel free to knock at the door of the owner to ask permission before entering his lands. You will surely enjoy this quiet and peaceful hot spring with its beautiful view on the fjord.
Drangsnes Hot Pots
(Westfjords)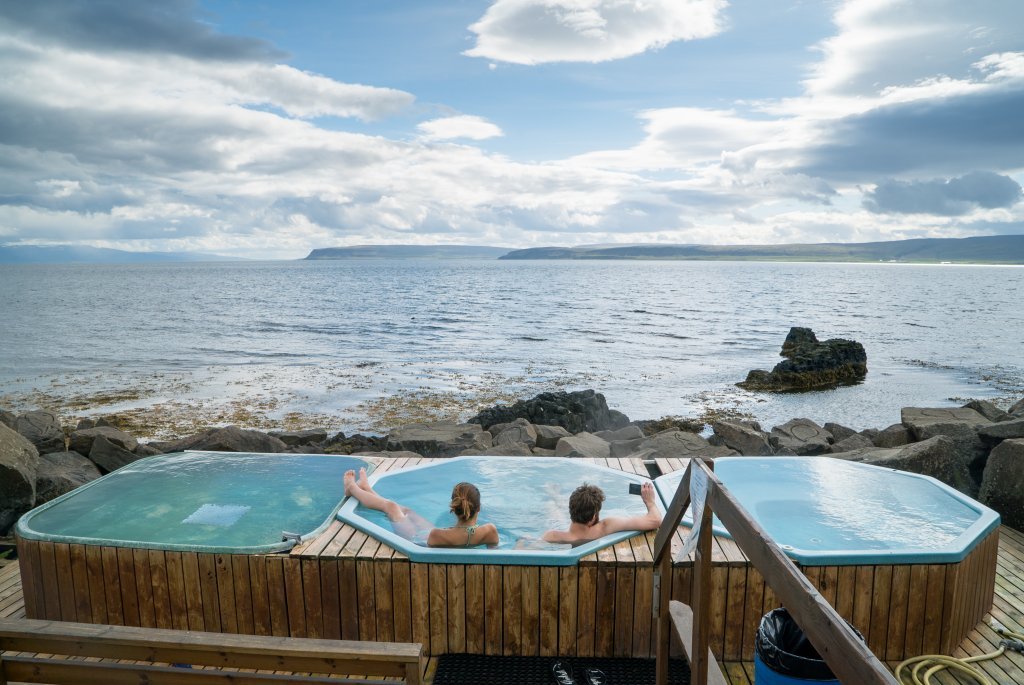 The last one in the Westfjords, those three bathtubs will provide you an incredible view over the seaside. There are toilets and showers on the other side of the road you can access for free. The perfect spot for the sunset!
Fosslaug
(North)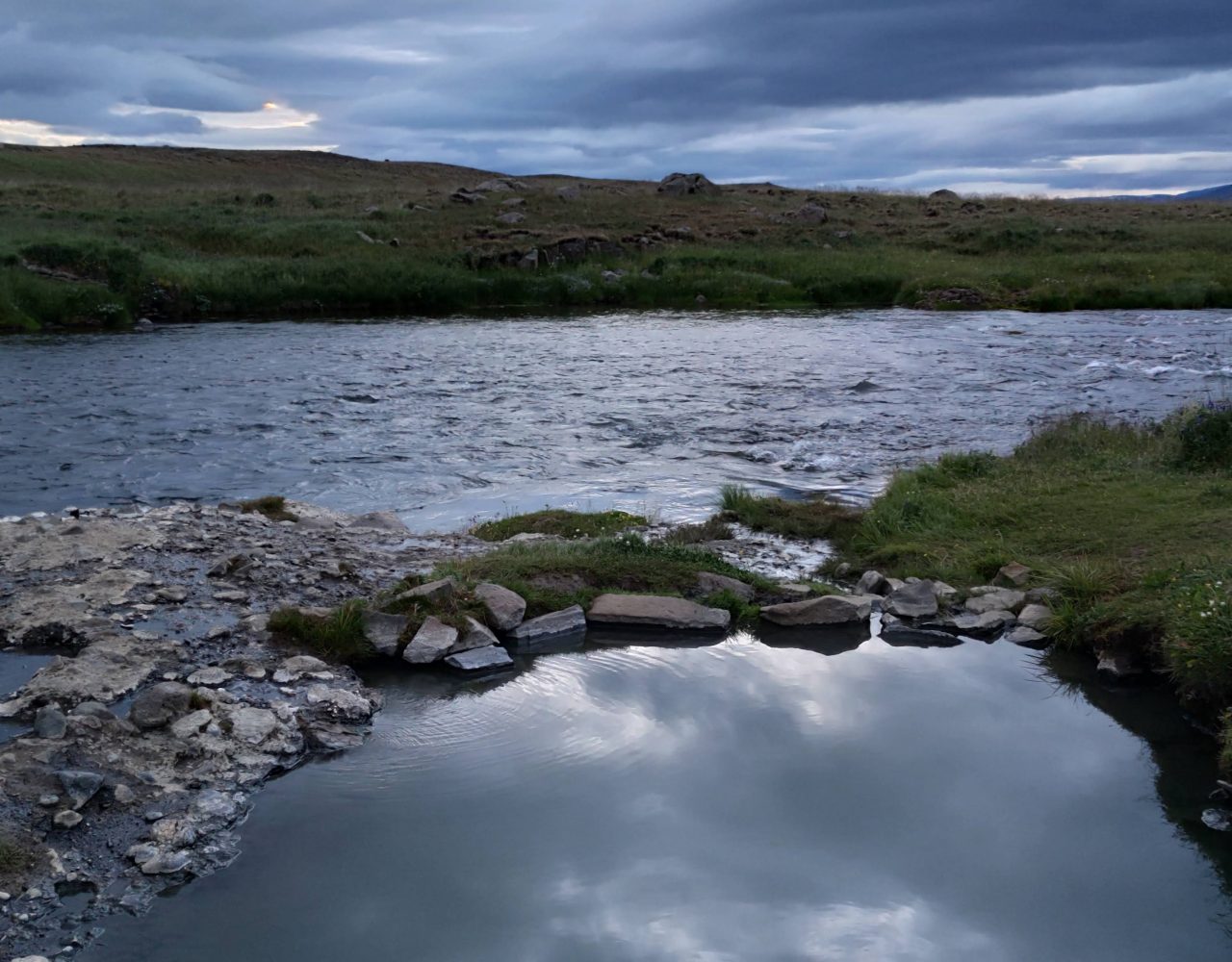 If you are on your way to Akureyri from Reykjavik or the Westfjords, you should definitely stop by this extremely charming hot spring that can accommodate about 10 people. When we went there, the whole river was warm and the hot spring itself was even warmer.
Djúpavogskörin
(Eastfjords)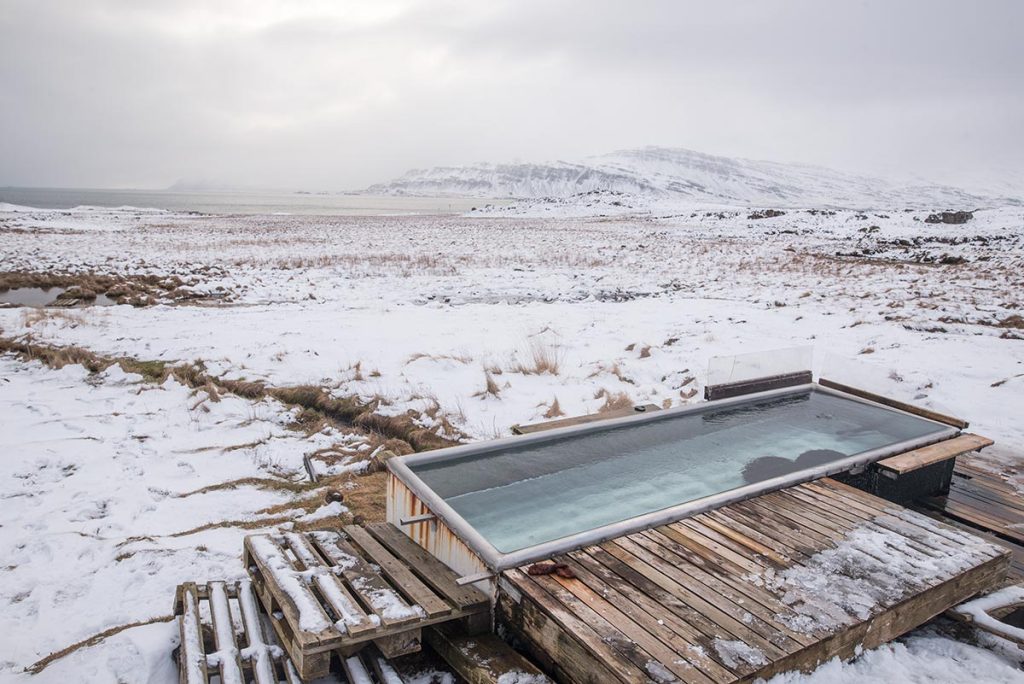 The Eastfjords do not have so many hot springs but this one is lost in the middle of the magnificent Icelandic nature. There are no changing rooms, just a stand to hang clothes if needed. For sure you will enjoy the spectacular view while bathing in the warm comforting waters.
Seljavallalaug Swimming Pool
(South)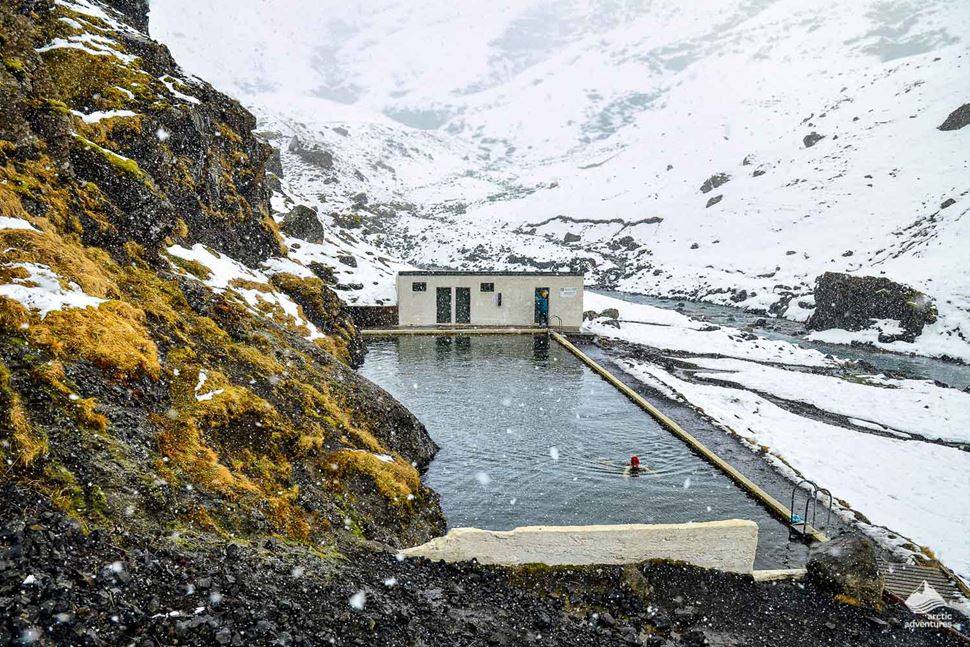 This one comes as a bonus as it is very famous but not particularly warm to bathe in. Located in the South Coast between Seljalandsfoss and Skogafoss, this little gem requires a short hike to be reached but the surroundings are absolutely cool. The changing rooms are not the cleanest though and the water is rather algae and cold so only the bravest are dipping in for some minutes.
Note that for almost all the hot springs mentioned, you can find a mailbox where you can leave a donation of your choice to help the landowners to keep the place clean and maintained. Again, it is also very important to leave the place as you found it, respect the nature surrounding you by walking on the marked paths, closing the fences behind you when you have to cross one, keeping your trash and taking all of your clothes and personal belongings with you when leaving the place.