Coming to Iceland would be for you the perfect chance to see one of the biggest mammals on Earth: whales. Those mesmerizing creatures can be found peacefully swimming and hunting around the island. We can only recommend you to go on a whale watching adventure when you are here because this activity will amaze you. In this article, we are providing you with all the facts you should know about the whales in Iceland.
The whaling industry
Historically, Icelanders have been whaling as early as 875 AD. Fishing has always been an important industry for Iceland and the whaling industry has been sustaining the country for decades.
Over the years, whaling has become very controversial with anti-whaling associations raising their voices to defend the whales' cause. Among the Icelanders, whaling has become unpopular and their consumption of whale meat represents less than 2% nowadays (the rest is exported or served to tourists in very few restaurants in Iceland). However, it has been 3 years in a row that no whales have been hunted in the Icelandic waters. Minke whaling has officially come to an end in 2020 in Iceland.
At the same time, since 2012, the whale watching industry grew by 15-34% annually. It is not uncommon to see former whaling vessels turned into whales watching vessels used to watch and study whales. The whale watching in Iceland is even more important as it promotes the protection of those mesmerizing creatures, their natural habitat and environment. During the whale watching tours, the operators make sure to provide the travellers with precious information about those marine mammals. The whale watching operators have the duty to minimize the negative impacts of the tours on the whales as much as possible.
We do offer a variety of whale watcing tours.
As the whale watching activity has increased, the question of the sustainability of this activity and the impact on the whales behavior has been raised. In order to limit as much as possible the negative impacts on the whales, the IceWhale code of conduct set some regulations and techniques to approach the whales to respect their welfare and natural habitat as much as possible. You can directly check on their website to see which whale watching operators have adhered to this code of conduct.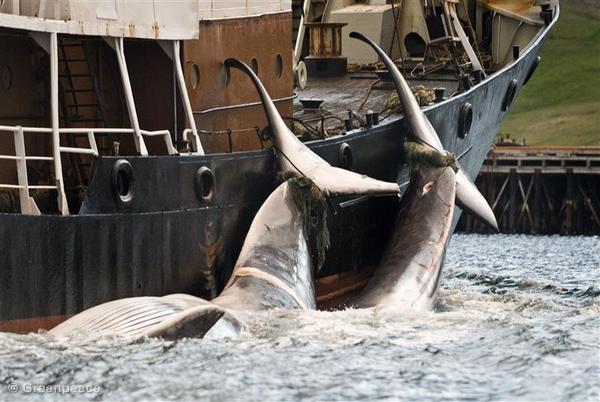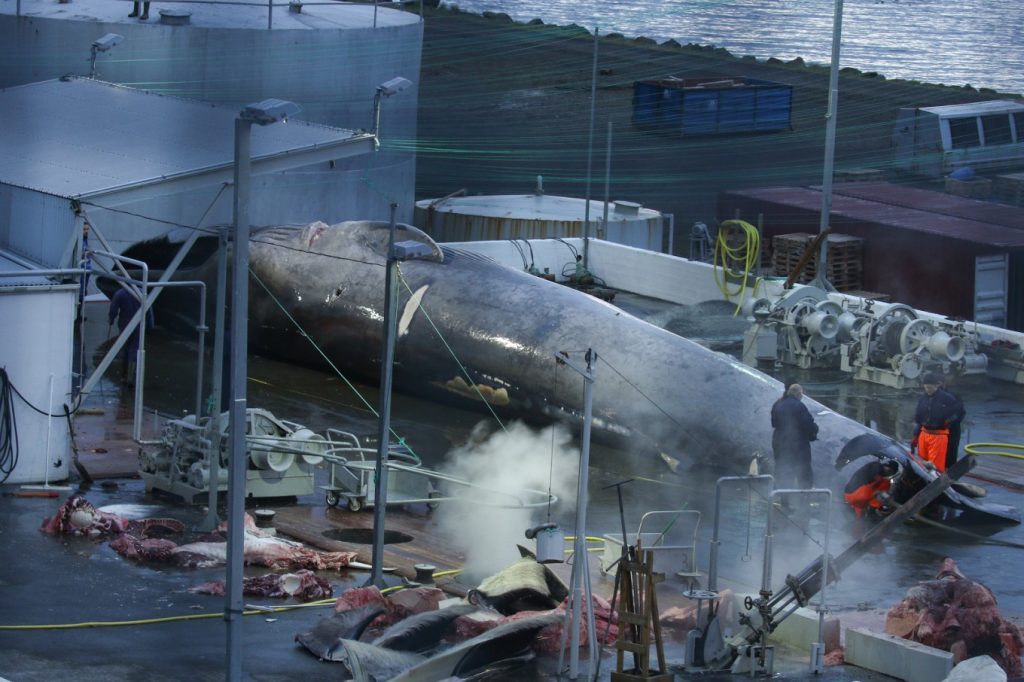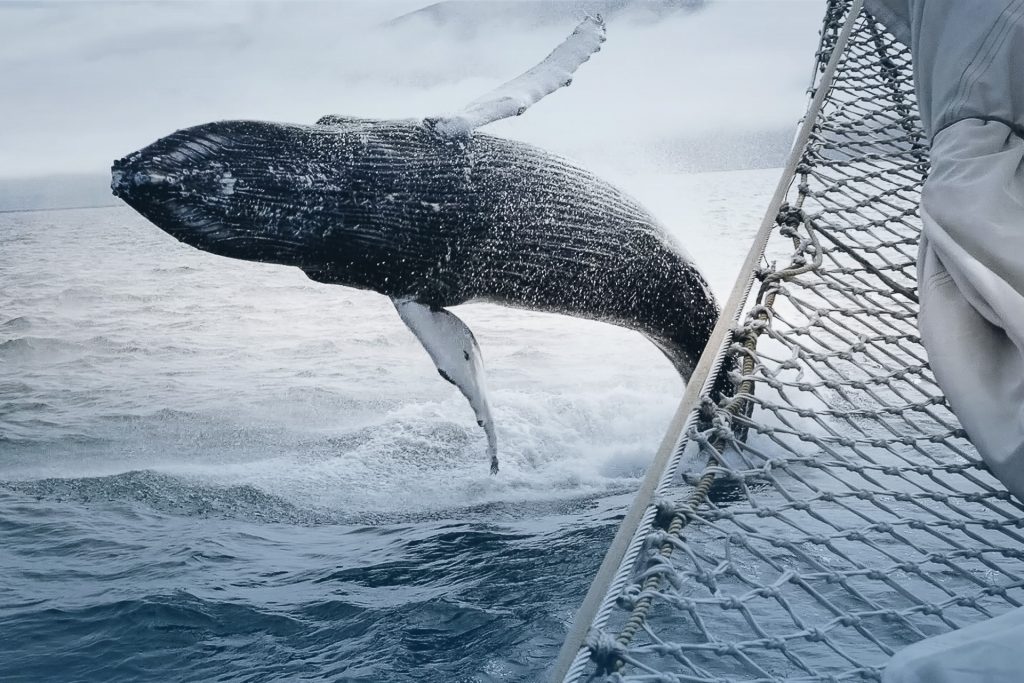 The different types of whales in Iceland
Iceland is a top destination to do whale watching but which type of whales can you observe when coming here? According to the season you will visit Iceland, in Summer or in Winter, and to the port of departure, you might have more chances to see different types of whales. In some places, the Icelandic coast is full of a wide variety of krill, fish and nutrients attracting and nourishing the whales, making it the perfect feeding ground for many whales, from the sperm whale to the harbor porpoise.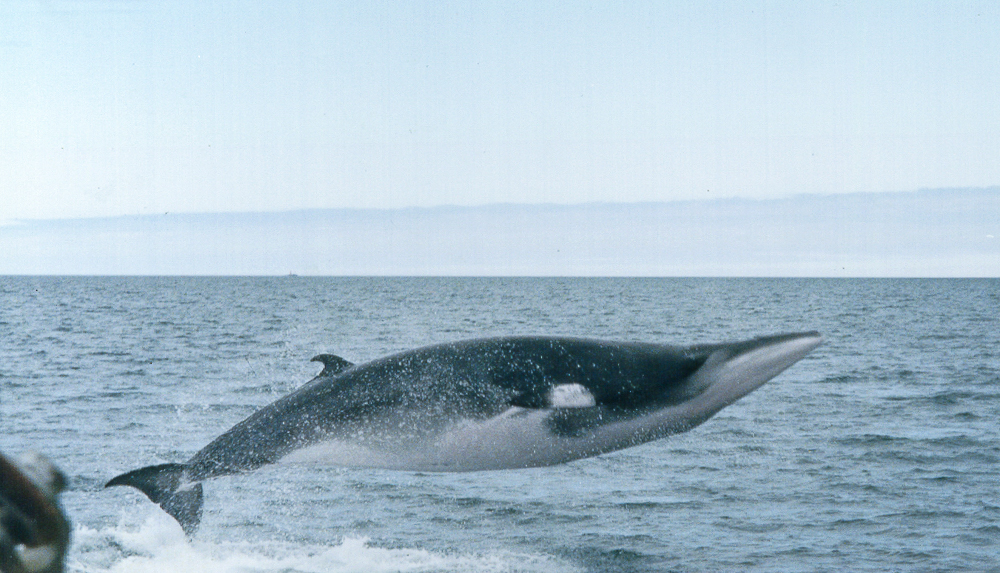 Minke whales: most commonly sighted, most likely to be seen all around Iceland throughout the year.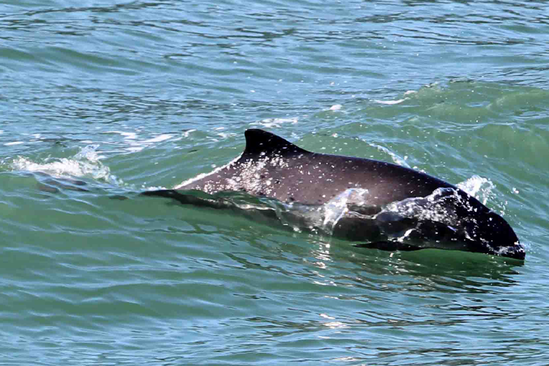 Harbor porpoises: all around the country throughout the year, very shy, need a trained eye to spot them as they appear at the surface alone or in small groups and they are very fast.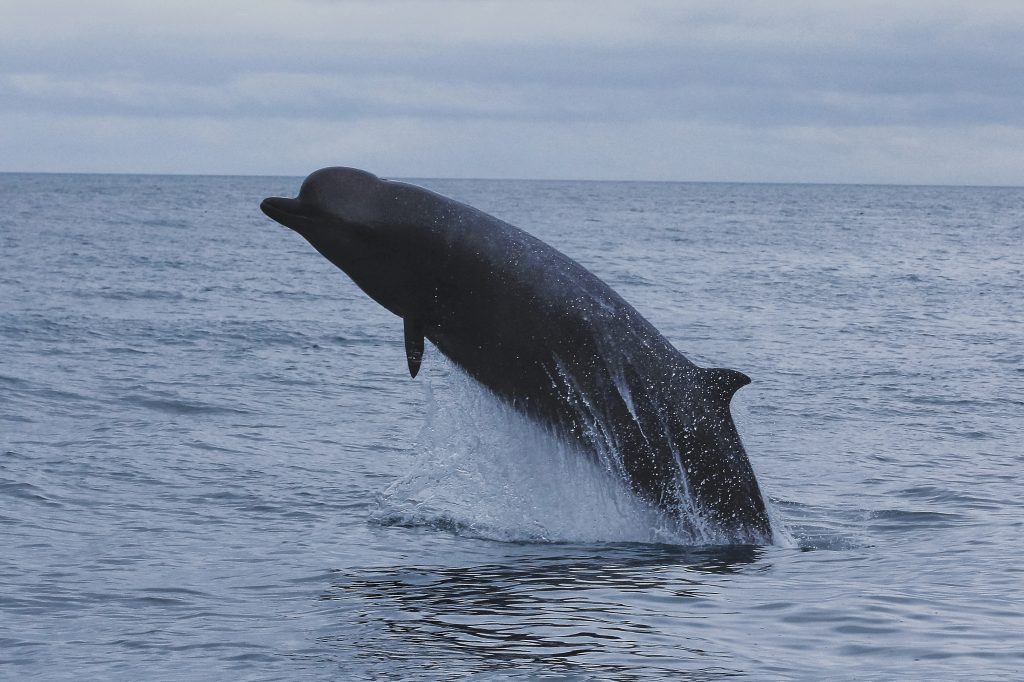 Bottlenose whales: they are one of the deepest-diving whales so it can be rare to see them; however, you can see them from inshore when they are migrating to the south.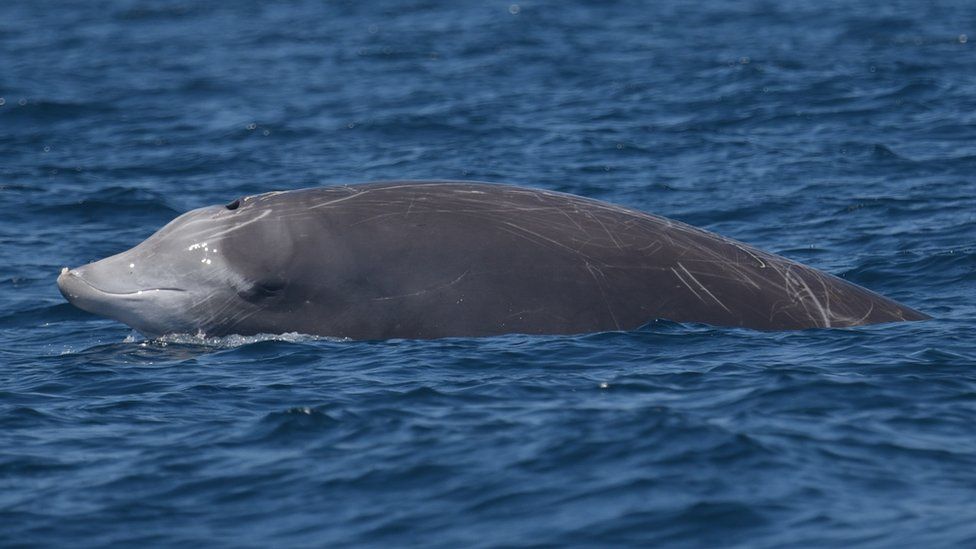 Beaked whales: it is very rare to see them as they spend very little time at the surface, they dive for hours and they have an aversion to boats.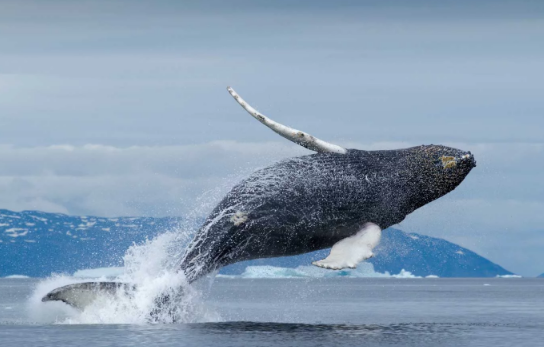 Humpback whales: come to Iceland during the summer but there is a change in the behavior and you also have chances to see them during the winter. They have the most acrobatic behavior, considered as the attention-seeking divas of the whale word.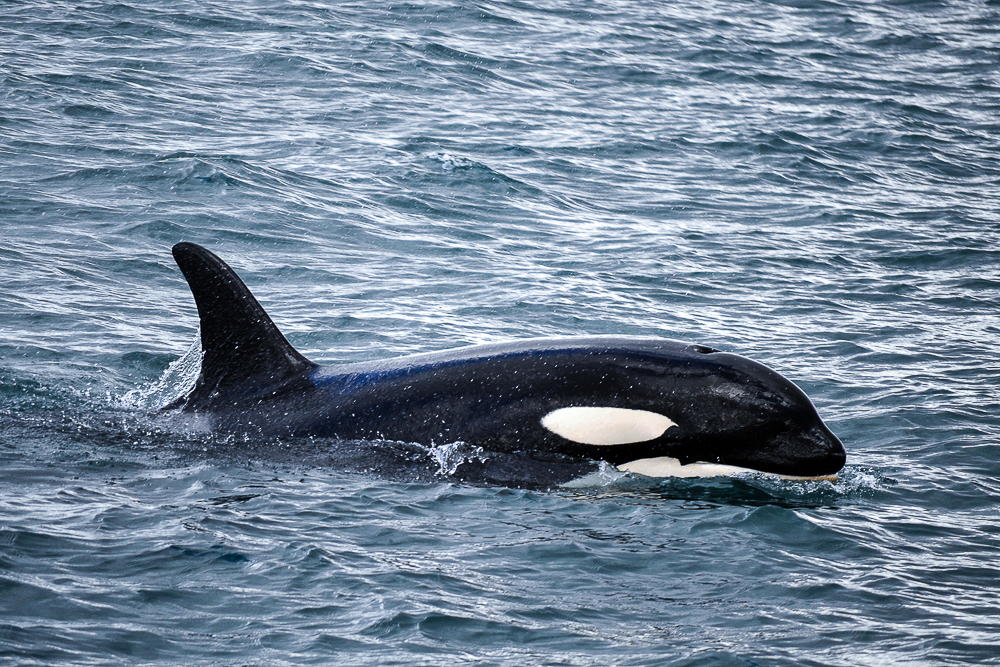 Orcas or killer whales: world's largest dolphin species, live throughout the year in Iceland coming closer to shore during the summer. It is difficult to see them as they change areas very often, spottable in the East fjords, around Snaefellsnes and the south coast.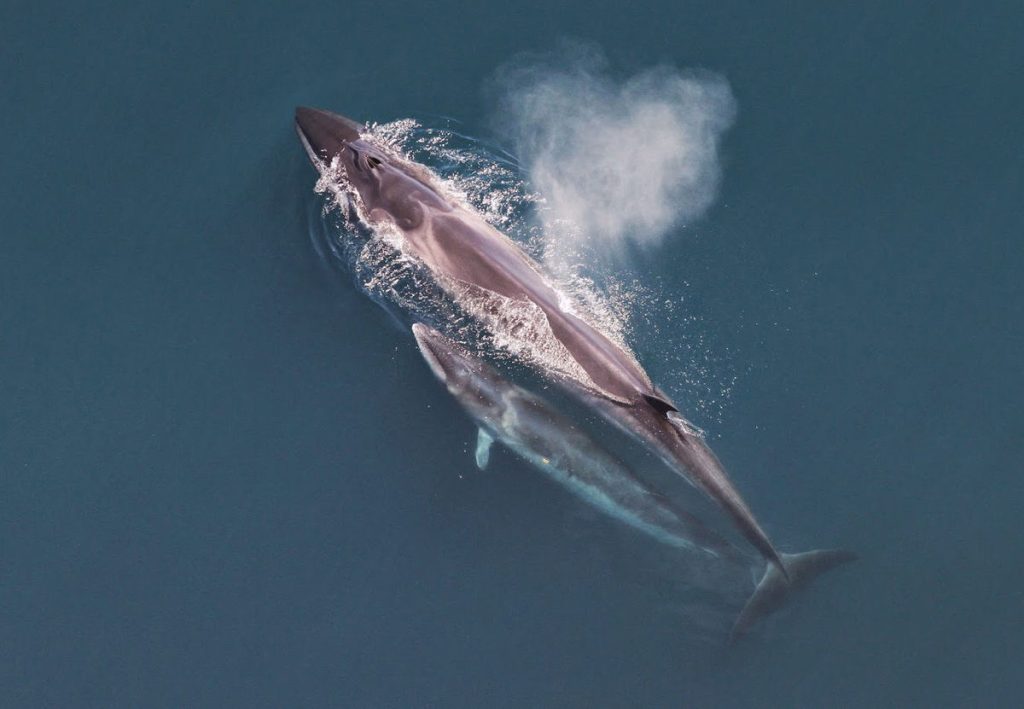 Sei whales: seen during the summer but very rare.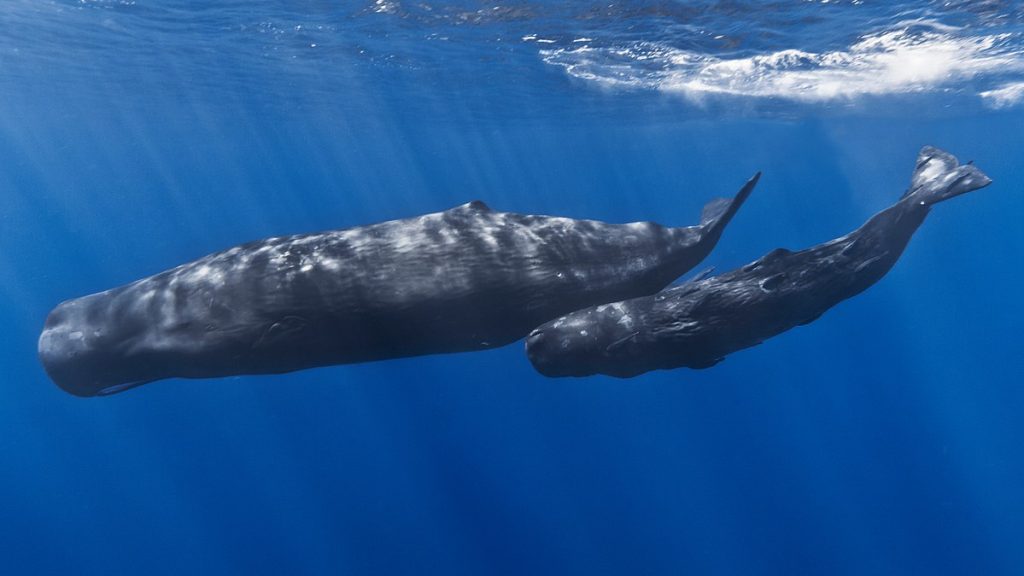 Sperm whales: more visible in the west coast and mainly in spring and summer.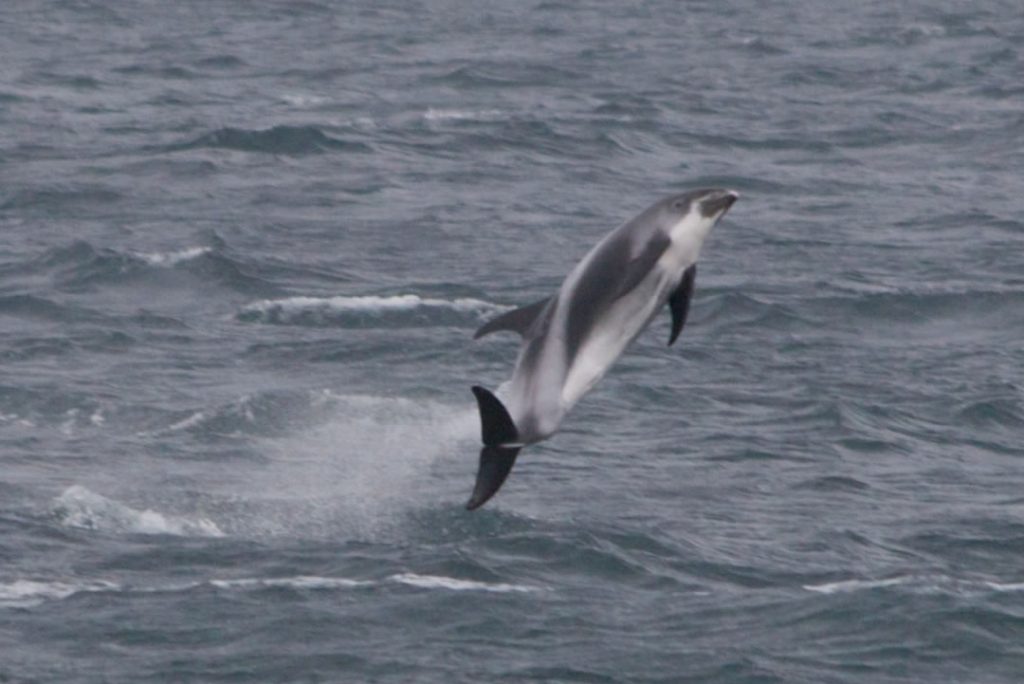 White-beaked dolphins: common around the country and throughout the year, they live in pods, it is common to see them playing at the surface, they sometimes get very close from the boat to play around and do their show.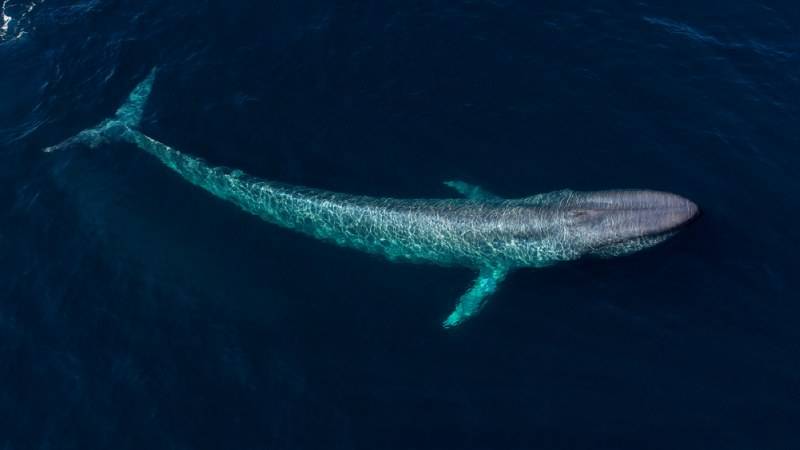 Blue whales: mainly come during the summertime, as the population is endangered, it is pretty rare to spot one.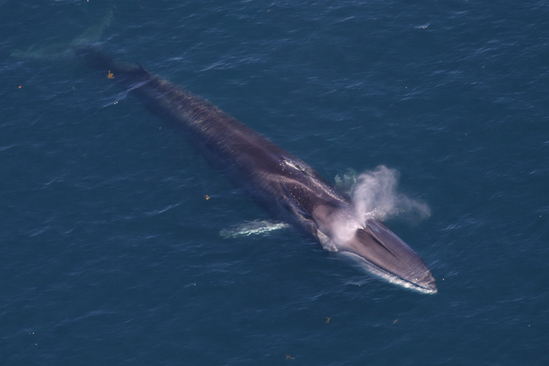 Fin whales: you can mainly see them during the summer.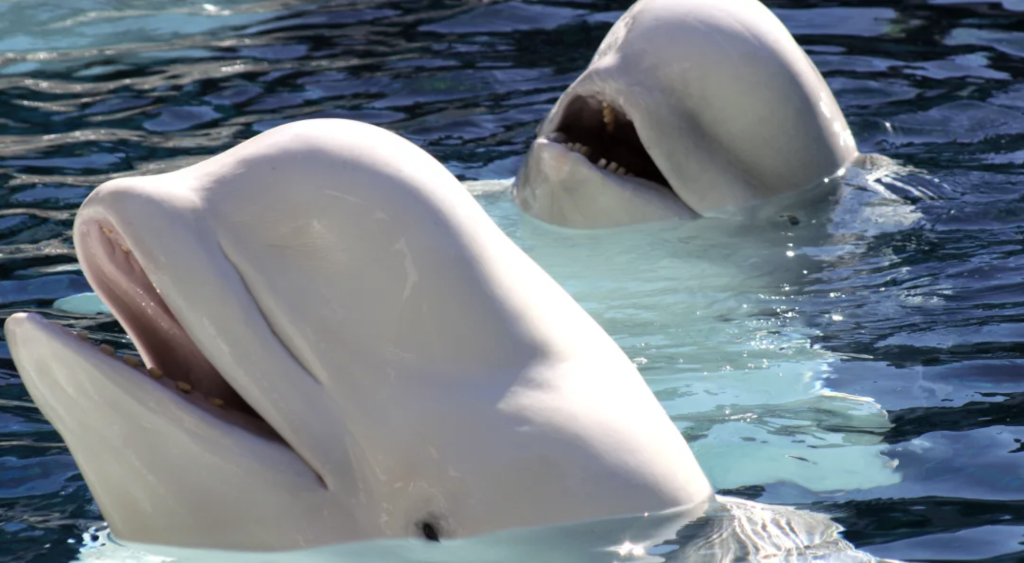 Belugas and narwhals: they usually live above the Arctic Circle but they come closer to Iceland to reach places with less icebergs during the winter.
When to see whales in Iceland
It really depends on what you are looking for. Most people would recommend you to see them in summer. However, it is important for you to know that the success rate of seeing whales on tours is on average around 90% throughout the year in Iceland.
The summer period is interesting as many whales are coming to Iceland for cooler waters, close to the poles, to feed. They usually spend their winters in warmer waters to breed. Hence, from April to October in Iceland, you can expect to see some of the largest creatures in the world. Also, in summer you can enjoy your tours even longer with the midnight sun, the weather (usually) is nicer allowing you to fully enjoy your boat tour and you can watch species such as blue whales or minke whales or humpback whales.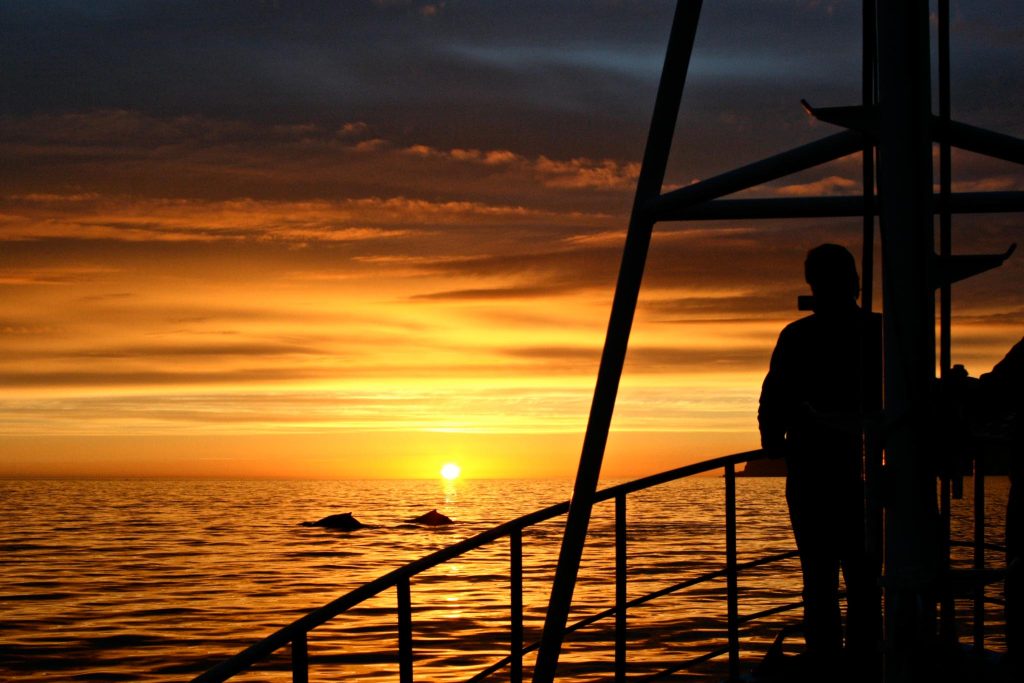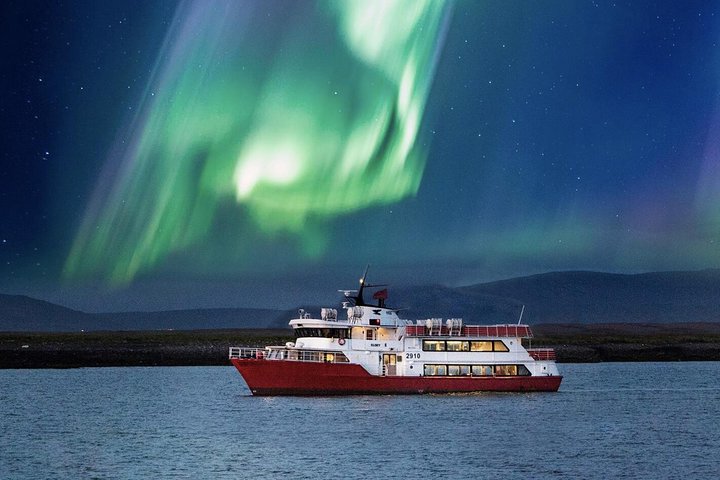 However, in Winter, you can observe Orcas, some humpback whales, white-beaked dolphins and even belugas. It is also interesting to note that the tours are less crowded, allowing you to have the space you need to take pictures and not having your view blocked by a crowd of cameras. You just need to be lucky with the weather to properly enjoy your time and not get seasick. As mentioned earlier, some species such as the Orcas are more common to be seen in winter rather than in summer for instance in the Breiðafjörður as the humpbacks whales that stayed for the winter. In the North, you have also higher chances to see belugas, coming closer to Iceland. Also, in winter, with the daylight decreasing, it can happen to be on a whale watching tour and see northern lights right above your head and whales next to you.
Where to do whale watching
First of all, it is important for you to know that you can actually do whale watching from the shore. In fact, it happens for some lucky ones to simply spot pods of whales, peacefully swimming nearby the shore. This is why we would always advise you to carefully look around when driving around Iceland, you never know which incredible landscapes or beautiful creatures you are going to encounter. In case you get no luck at shore, your best solution will be to go on a whale watching boat tour.
There are many companies with whom you can book tours with. There are 5 places in Iceland where you can find companies to go on whale watching tour :
Húsavík: located in the North of the island, considered as the World's whale capital, you will have 99% chances to see whales during your tour in the baie, the most common species being the Humpback Whale, Minke Whale, Blue Whale, and White-Beaked Dolphins.
Reykjavík: capital of the country with 99% of chances of seeing whales, in Faxafloi baie you might see Minke and Humpback Whale, Whale-Beaked Dolphins, and Harbour Porpoise.
Akureyri: capital of the North of the island, the chances to see whales on tour are up to 95% with Humpback and Minke Whale, Harbour Porpoise, and White-beaked Dolphin as common species.
Ólafsvík:  in the West of the island, you will have 95% chances to see whales on tour and the most common species are Orcas, Minke Whale, Harbour Porpoise,  White Beaked Dolphin and  Humpback Whales.
Hauganes: located nearby Akureyri, with a 99% chance of success seeing whales, you might see Humpback and Minke Whale, Harbour Porpoise, and White Beaked Dolphin during your tour.
Whales and Icelandic folklore
Even though whales are peaceful creatures that do not harm humans, there are many Icelandic myths and tales picturing them as evil creatures. Called "illhveli" or "evil whales", there are about 10 different types of evil whales in the Icelandic folklore.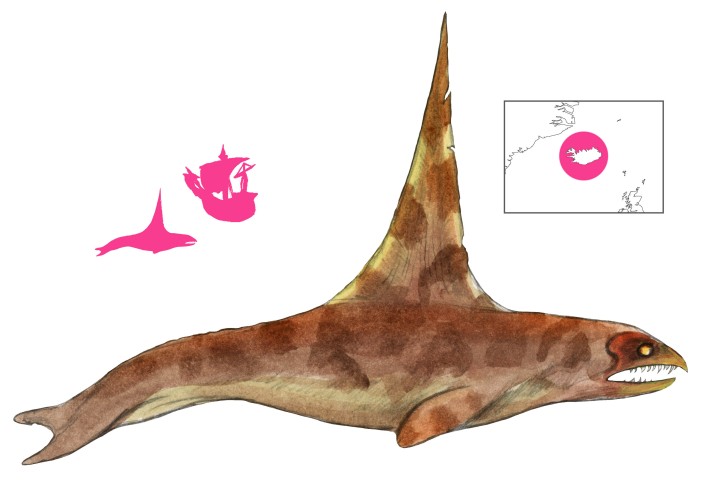 sverdhvalur (swordwhale)

krosshvalur (horsewhale)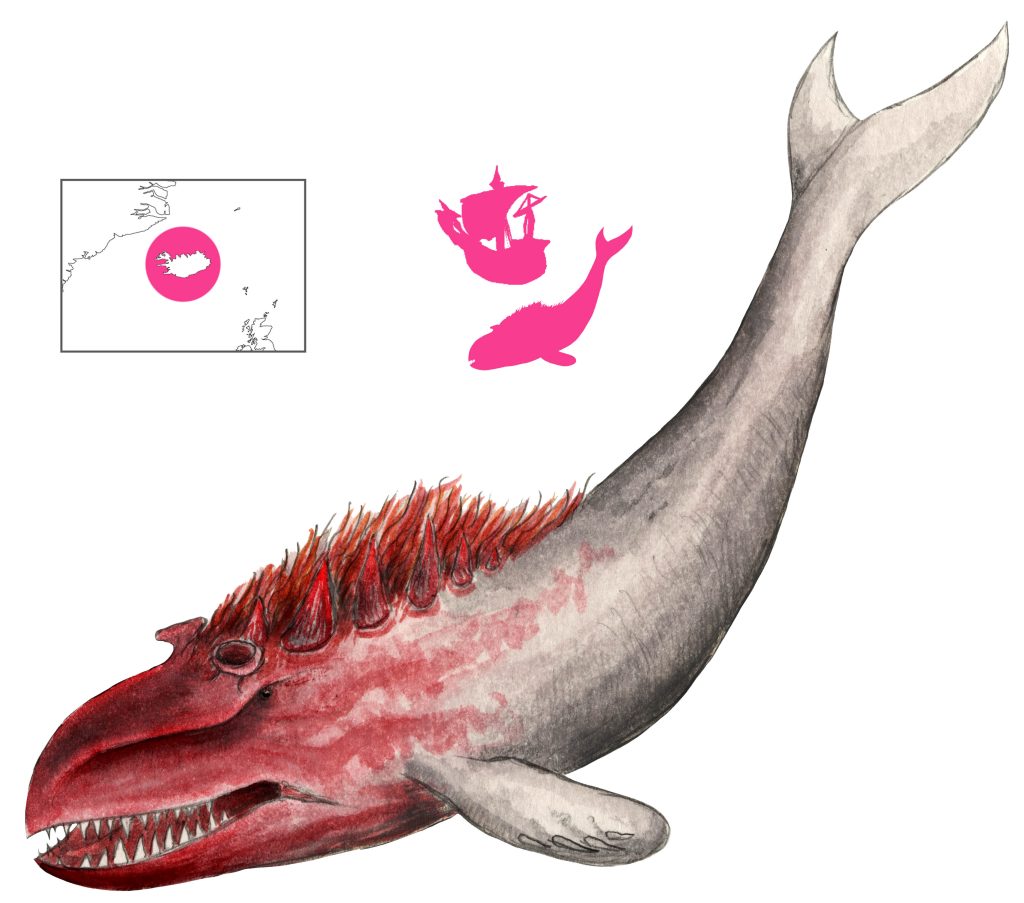 raudkembingur (redcomb whale)

katthveli (catwhale)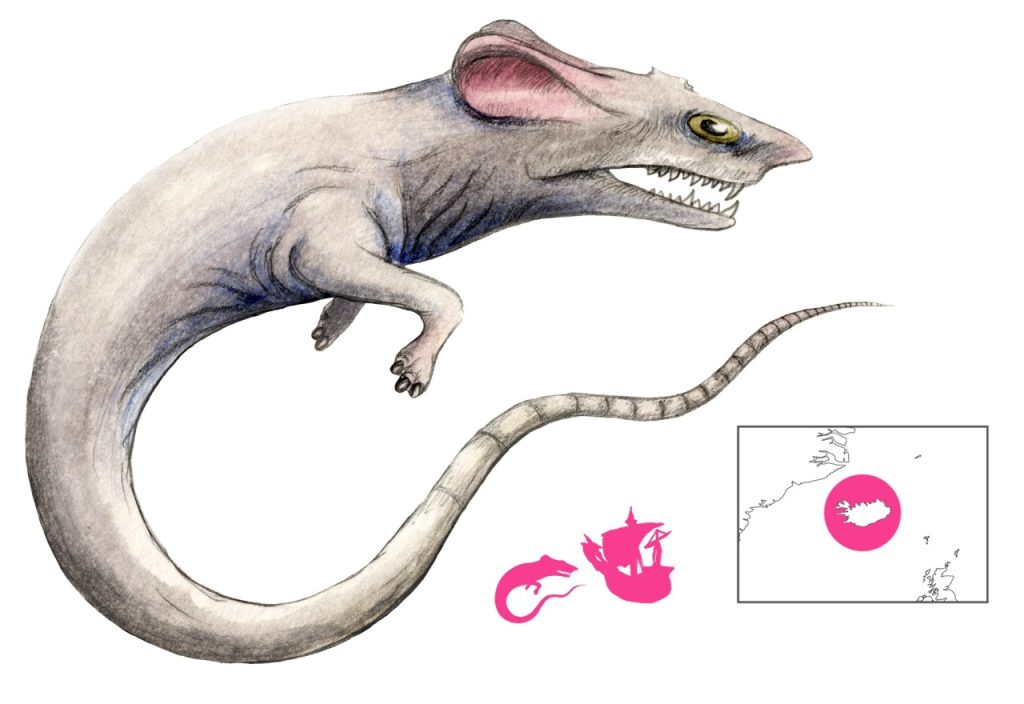 mushveli (mousewhale)

lungbakur (heatherback whale)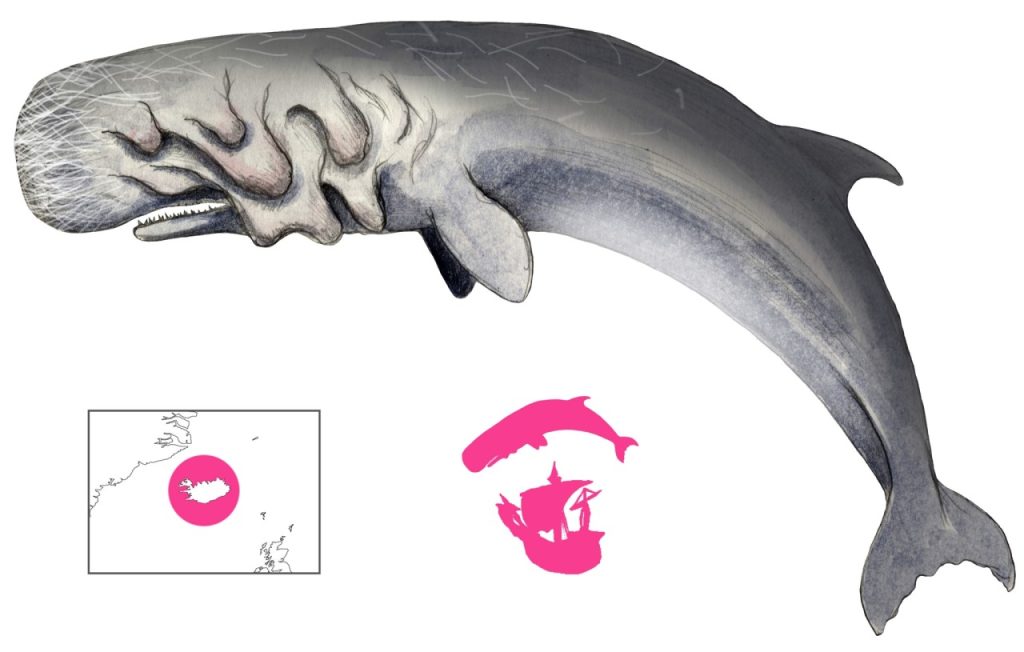 stökkul (jumper whale)

nauthveli (oxwhale)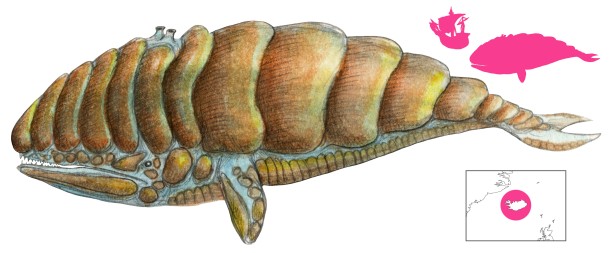 skeljungur (shellwhale)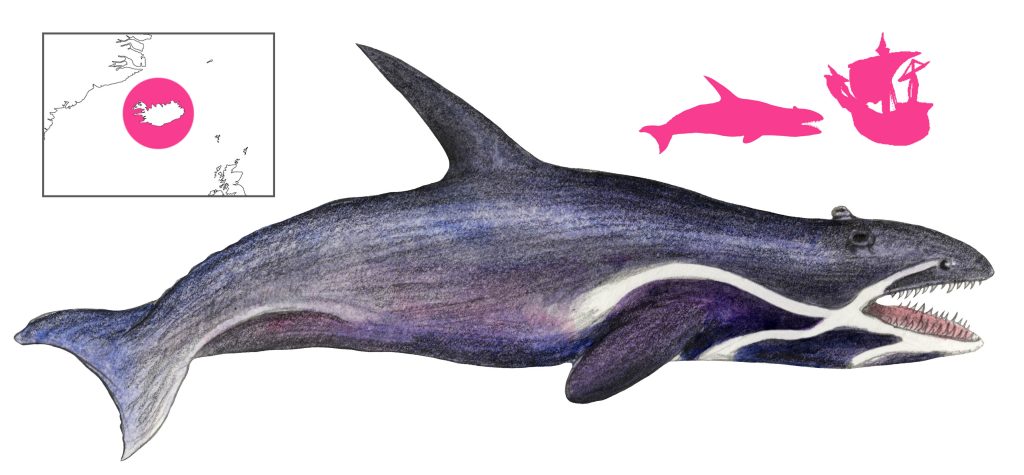 taumafiskur (bridlefish)
All of them, feeding from human flesh, destroying boats or simply scaring off the sailors. Going out at sea, it would be bad luck to even name the evil whales because it would summon them and they would come straight to you. Even words containing a fraction of their names, with different meanings, would be avoided to be said.
There also are "good whales" such as the Blue Whale which is considered as the protector of the sailors, scaring away other whales, protecting the sailors from other whales, encircling the boat three times to warn a danger was coming. Even when the Blue Whale was alone against more evil whales, it would fight and drag the other ones to death.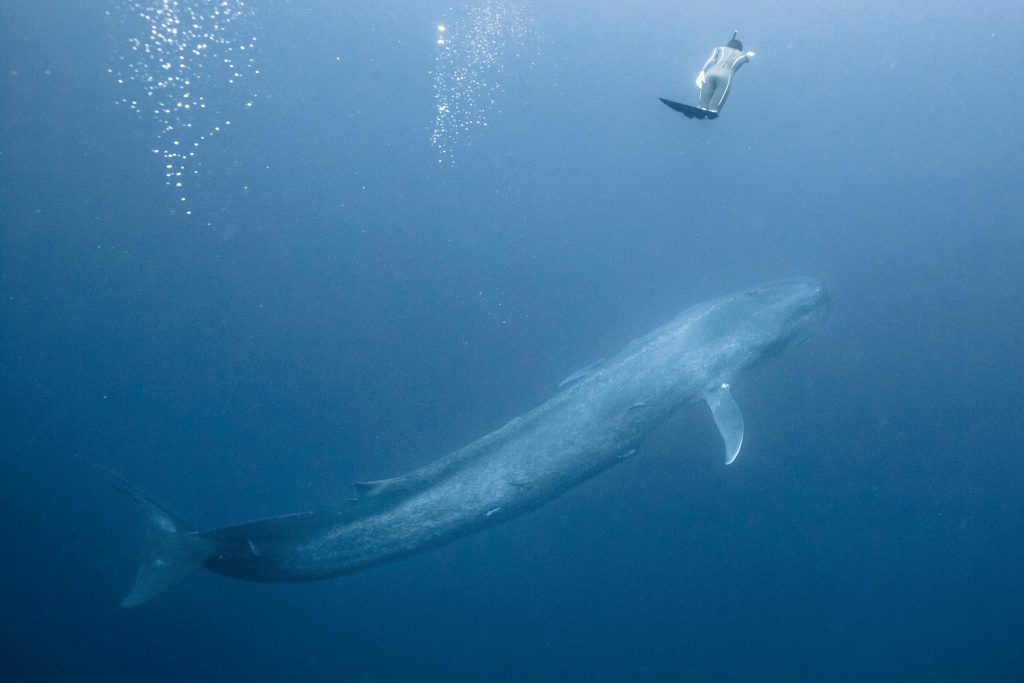 The role of whales and climate change
Whales are not just absolutely stunning creatures swimming around Iceland, they also play a very important role in our planet. They contribute to keeping the oceans healthy and capture carbon. Their population is vital as it is a key element to tackle climate change.
Whales mainly feed on krills and small fish, doing so, they boost the phytoplankton in the ocean holding about 40% of all the carbon in the whole world. Over their lives, they keep an important amount of carbon dioxide within their bodies which, when they die, they slowly sink at the bottom of the ocean, and this carbon is held there for hundreds of years. While trees hold 48 pounds of carbon in a year, whales hold 66 000 pounds of carbon over their lifetime. This is why whales are so important for our planet and why we should protect them from whaling, from oil spills, all those pollutants present in the oceans nowadays, pesticides, plastics but also from overfishing, leading to a scarcity of food.